Few Words From TLC Lenders…

Our accelerated learning loan broker business program is designed to teach ordinary people without any background in finance the latest techniques in operating a loan brokerage company. Our certification classes are taught by seasoned professionals with direct experience in the Loan Brokerage industry. Our funding sources require this initial two day training to qualify you to work directly with them in this entrepreneur opportunity.
Podium Financial
The Loan Consultants, Lender
"…We have processed millions of dollars of real estate loan requests from the Certified Loan Brokers you have established. We have funded many of their loans and feel you should be complimented on the professional training and guidance you provide these loan companies. I have updated and attached a Broker Loan Referral Agreement to be a signed by each of your Certified Loan Brokers to assure them access to our funding lines and guarantee their commissions."
National Mortgage Banker
The Loan Consultants, Lender
"…Congratulations on successfully completing The Loan Consultants training program. We wish you much success with your new business. The Loan Consultants have been an approved broker with our institution for a number of years, and any new company that completes the program is approved as well.
As an approved broker, we can get right to work. You're already approved, so we can immediately start qualifying your borrowers and properties."
National Bank
The Loan Consultants, Lender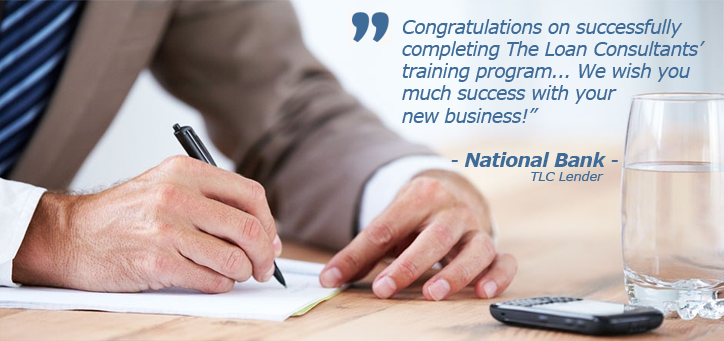 National Bank
The Loan Consultants, Lender
Fidelity Bancorp
The Loan Consultants, Lender
"…I want to extend congratulations to you for completing The Loan Consultants Business Finance Consultant training program, and for making the commitment to yourself to become a successful financial broker. I can assure you that the training that you have received is second to none. You now have a solid foundation to understanding of the finance world and significant opportunity to earn commissions. We wish you all the best, and look forward to working with you to continue your 'on the job' training and closing deals.
Once again I want to extend my congratulations and I am confident that you will find your relationship with The Loan Consultants as professional and enjoyable as we have."
National Equipment Leasing
The Loan Consultants, Lender
Caltex Funding
The Loan Consultants, Lender