What Our BFC & CLB Affiliates Have To Say About Us?

Our accelerated learning loan broker business program is designed to teach ordinary people without any background in finance the latest techniques in operating a loan brokerage company. Our certification classes are taught by seasoned professionals with direct experience in the Loan Brokerage industry. Our funding sources require this initial two day training to qualify you to work directly with them in this entrepreneur opportunity.
Marcus Naulin
The Loan Consultants, Affiliate
Completed a $12,000,000 factoring deal in December, and informed us about it. He also included a letter of gratitude from a satisfied client he funded the deal for. "We were pleasantly surprised by what our Business Finance Consultant could do for us without us having to show financial statements. Our company is a professionally managed private corporation, and we don't like to show our financials if we can avoid it. Our Business Finance Consultant was able to arrange a lease on a $200,000 production machine for us with only a one-page equipment lease application. The payments were surprisingly reasonable, and the lessor was excellent." (Monica D.)
Jerrold J., Lilburn, GA
The Loan Consultants, Affiliate
William Henry
The Loan Consultants, Affiliate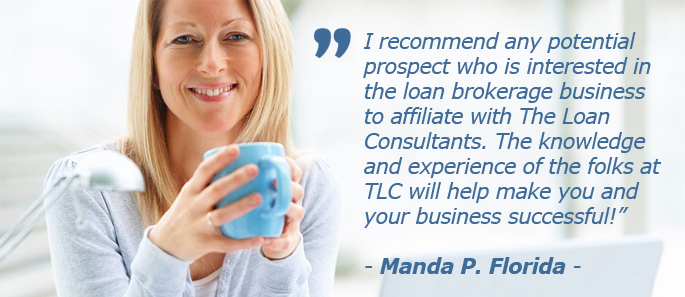 Manda P. Florida
The Loan Consultants, Affiliate
Craig completed training in early October only days after surgery on his arm. After recuperating, he began setting up his business in early November. By year's end he had completed a $304,000 dairy equipment lease, resulting in a commission of $18,000. Since that time he has completed a $495,000 truck fleet lease, three SBA Express Loans, a $100,000 auto repair shop equipment lease and has eleven more deals in the pipeline.
Craig B., Eugene, OR
The Loan Consultants, Affiliate
Has been affiliated with our entrepreneur opportunity program since 2001. Before he joined our organization he has owned various businesses over the last 12 years and he is also a real estate investor. Todd recently closed two loans for one client for a total of $1,600,000. These were office and office warehouse properties. His primary focus is on commercial and residential lending.
Todd M., Lapeer, MI
The Loan Consultants, Affiliate
Foundation Mortgage has been a Certified Loan Broker since 1993. Since becoming a loan broker, he has decided to keep his full-time job as an engineer while his wife handles all of the paperwork on the loans that they originate. They currently focus their efforts on funding 1st and 2nd mortgages for residential homes. They say that they are currently closing 8-10 loans per month between the two of them.
Tony L., New York, NY
The Loan Consultants, Affiliate
Pete Tentler
The Loan Consultants, Affiliate
Michael Valdez
The Loan Consultants, Affiliate
Susan Hicks
The Loan Consultants, Affiliate
"I was able to find financing for this company, regardless of ICLK still showing great losses, month after month. It was the credit facility that we created that allowed the company, not only stay afloat, but also give them the ability to grow by leaps and bounds, and finally begin showing a profit. As you read in the paragraph below, their sales grew tremendously since they were funded in late November 2008. During the 2008 fourth quarter, the company entered into a $3.5 million revolving credit facility that is expected to support working capital requirements during 2009. On February 3, 2009, the Company received lender approval increasing the credit facility by $1.0 million to a total of $4.5 million."
Peter T., La Jolla, CA
The Loan Consultants, Affiliate
The Above Success Stories Were Shared With Our Senior Loan Officers By Actual BFC and CLB Affiliates. These success stories and 100s more are open to inspection at our company headquarters in Los Angeles. The above should not be construed as earnings projections since any new business is dependent on the time and dedication you invest to make it succeed. Most states require licensing for residential mortgage transactions. Though TLC's customer representatives will assist with applications and any other requirements, customers are ultimately responsible for meeting any applicable state's licensing requirements. Contact one of our customer service representatives for written details in your state.