Residential Finance Broker (CLB)

Becoming a Certified Loan Broker provides you and your client substantial advantages that traditional mortgage brokers do not have. These advantages can be seen in four important categories: Training, Product Knowledge, Customer Service and Pricing. Lets talk about training first.
To fully understand this advantage you must first know how a Certified Loan Broker differs from a mortgage broker. A Certified Loan Broker is the elite of the mortgage industry. A Certified Loan Broker is thoroughly trained and certified by the nations oldest and largest loan broker training company. Most people would be surprised to find out just how little formal training the average mortgage broker / loan officer actually has received. Certified Loan Broker training helps to ensure that the person handling your loan has access to the most current information and lending techniques available in the market. Also, unlike traditional bank loan officers, Certified Loan Brokers receive substantial training on how to help borrowers whose credit is "less than perfect, as well as those with good credit". Because of this training, Certified Loan Brokers are often able to close loans that other mortgage brokers could not. Whether you've had trouble paying your bills, are new on your job or just a little short on the down payment, a Certified Loan Broker is your best opportunity to get the loan you need. In addition, Certified Loan Brokers are not restricted to only handling your personal financing needs. If you are self employed a Certified Loan Broker can also help to arrange equipment financing, SBA loans, commercial real estate loans and even finance your accounts receivables. In other words, a Certified Loan Broker is the only source you will need for almost any type of loan or lease.
Providing you with a superior level of customer service is equally important to a Certified Loan Broker. For this reason a Certified Loan Broker will spend all the time necessary to provide you with a custom financing solution that is right for you. Once your application is started, a Certified Loan Broker will represent you throughout the transaction so that you can focus on more important things. Certified Loan Brokers also maintain contact with you throughout the loan process so that you never feel "out of touch" with your own loan. In fact, Certified Loan Brokers regularly provide their clients with status reports to help keep you informed. At every step throughout the transaction, you will know the status of your loan. If you have ever been through the mortgage loan process, then you know that this is not normally the case. Most borrowers will endure the entire loan process wondering what exactly is going on, or trying to get answers from other people involved in the deal because their loan officer is never available. Certified Loan Brokers understand the value in providing a superior level of customer service and are focused on keeping you involved every step of the way.
At The Loan Consultants, Inc.,we specifically designed our Certified Loan Broker program with Simplicity of Operation as the major objective.
In addition to their knowledge and desire to make your loans go smoothly, a Certified Loan Broker will give you access to the most aggressive rates and terms available in the market. Since Certified Loan Brokers have the ability to work with hundreds of lender programs nationwide they can offer you more options than you may have thought possible. Also, because Certified Loan Brokers access "wholesale money" they can provide the same programs that major banks offer and pass the savings on to you. It is also important to note that a Certified Loan Broker does not get paid unless they are successful in funding. This means they will review your request and present it in a manner that poses the greatest probability of funding. As such, Certified Loan Brokers have a tremendous motivation to ensure that there are no hidden costs or fees that other mortgage brokers often charge you at the last minute. By choosing to work with a Certified Loan Broker, you are working with the elite of the mortgage lending industry.
The Loan Consultants, Inc. specifically designed our Certified Loan Broker program with "simplicity of operation" as the major objective. We will show you how to operate a professional and successful loan brokerage without the expensive offices and staff of salaried employees that drive up your overhead. This results of course, in lower operating costs and higher profits for you. Additionally, you will have the confidence of knowing you are offering the one product that everyone needs… money!
If your goal is to own your own successful business, achieve financial security and independence for you and your family, The Loan Consultants, Inc. may be a rare and golden opportunity to make those goals a reality.
Our status in the industry, our longevity in this business, and our reputation with our customers and funding sources are irrefutable proof that we know what we are doing. Our staff of highly trained, experienced and dedicated professionals take great pride in mentoring our Certified Loan Brokers to success.
If you are ready to begin earning Executive level income as a Certified Loan Broker, and are prepared to commit yourself to making your own business successful, we'll provide all the expertise and support to get you started and ensure you are successful every step of the way.
Turn-Key Business Opportunity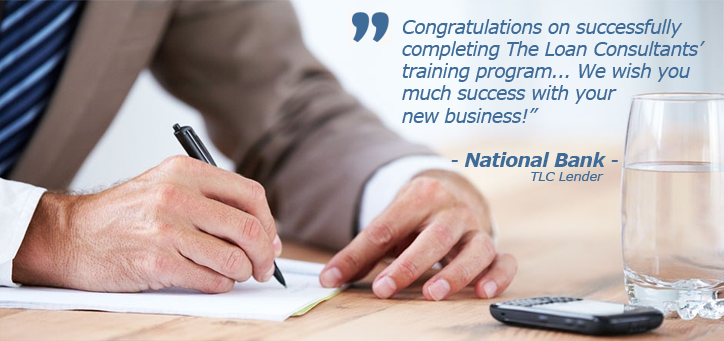 National Bank
The Loan Consultants, Lender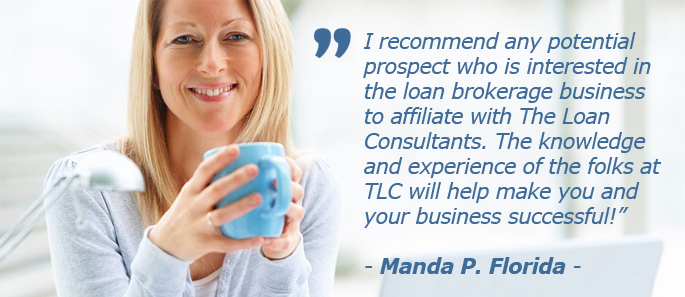 Manda P. Florida
The Loan Consultants, Affiliate
Benefits of TLC Business Model
Our clients are often surprised by the possibilities we present to them; by thinking outside the box we present exciting new ventures:
Work fewer hours — and make more money
Attract and retain quality, high-paying customers
Manage your time so you'll get more done in less time
Hone sharp leadership skills to manage your team
Cut expenses without sacrificing quality
Automate your business, so you can leave for days,
How Our Program Operates?
Here's Just Some Of What You Get...
With our proven system you work for yourself, but not by yourself. Once training is completed, you will have access to our team of seasoned professionals to help work through your deals. We believe our responsibility to make you successful does not stop when you leave the classroom:
Live Advanced Professional Training
Free Unlimited Lifetime Support
Relationship With Over 100+ Wholesale Lenders
Follow-Up Training By WebEx & Teleconference
Your Own Professionally Designed Website
24/7 Access To Our Broker Support Sites 
FREE Tier-3 Web & Tech. Support & Much More!
Delivering 38 Years of Excellence!
The Oldest & Largest
Since 1983, The Loan Consultants, Inc. has built a reputation within the financial community that is looked upon with envy and respect. Our training process is a masterpiece of adult education that can train anyone, without any prior background in loans or in the finance industry. This intensive training session is intended to jump-start your business and is the first step in our ongoing training and support system.