Turn-Key Opportunity To Start Your Own Business!
Most Complete & Experienced Loan Broker Program in the World!
Our accelerated loan broker training program is designed to teach ordinary people without any background in finance, the latest techniques in operating a loan brokerage company. Our certification classes are taught by seasoned professionals with direct experience in the Loan Brokerage industry. Our funding sources require this initial three day training to qualify you to work directly with them as a Business Finance Consultant or Certified Loan Broker.

We Support You For the Life of Your Business!
Loan Consultants, Inc. takes pride in its Business Finance Consultant and Certified Loan Broker programs and particularly in the many fine people it has been our pleasure to help become successful BFC's and CLB's. Our responsibility to your success does not stop with the training systems and materials we provide you to operate your business. We consider that just the first half of our job. The second half is to support you for the life of your business!
Professional Loan Broker Certification Training in Class!
When you are accepted into our Network of Affiliates, you will begin your new career by attending our 3-day training and lender certification session where you will learn work within The Loan Consultants System. Our training is a masterpiece of adult education that can train anyone, without any prior background in loans or finance. This intensive training session is intended to jumpstart your business and is the first step in our ongoing training and support system.
Your three days will be spent learning our system and understanding how loan brokers operate. You will receive our entire library of support materials at training, including a 600 page CLB or BFC Operations Manual on Video. This manual is just one of the tools we provide to assist you in running your business. All of the inside knowledge of Loan Consultants will be disclosed to you, and along with our live support you will use this manual to operate your business successfully, without succumbing to the mistakes others have made by trying to begin without assistance. Our training and support materials alone can save you from making operational and financial mistakes that could cost you much more than the price of our program.
Daily Affiliate Support & Guidance after Class!
When you leave our 3-day certification training, you will be able to start your business immediately. Because you'll have daily access to our team of Senior Loan Officers to guide you at each step, you'll begin your career with the confidence of a seasoned professional. Additionally we'll provide you with numerous sales tools for every type of loan and lease that will enable you to speak with any prospective borrower and sound like a seasoned professional. And if you still have questions, our Senior Loan Officers can pair you with one of our numerous Wholesale Lender Reps who will also be there to assist you. Answers are always just a phone call away for our Network of Business Finance Consultants or Certified Loan Brokers. By telephone, e-mail or fax, we are available five days a week for the life of your business at no additional cost. Our unique mentoring concept combines your desire to succeed with the knowledge of a seasoned professional. You are in business for yourself, but never alone!
Range of industries
Accelerated Loan Broker
Training Program
Direct Access To Over
100+ Lending Sources
Support For The Life
Of Your Company
Advanced Mobile Technology
Training & Materials In Various Formats
Advanced E-Commerce Solutions
Strategic & tactical planning
Here's just some of what our affiliates receive:
Live, 3 day training session taught by industry experts
Direct access to our network of over 100+ lenders
Lifetime technical support from our I.T.  Professionals
Your own fully functional website with (CRM)
Access to our Broker Support website and Mobile App
Free Tier-3 Busines Software and Data-Server Support
Strategy development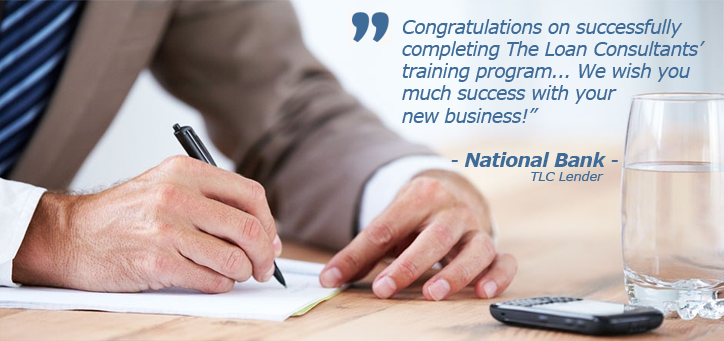 National Bank
The Loan Consultants, Lender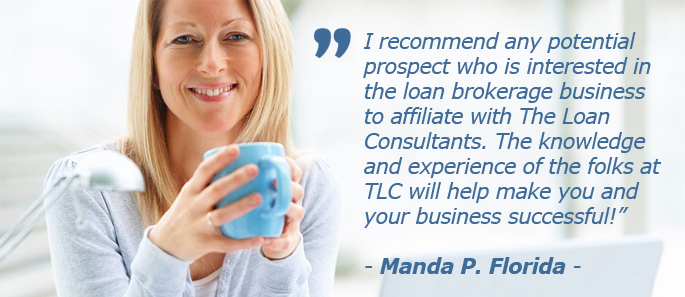 Manda P. Florida
The Loan Consultants, Affiliate
Research beyond the business plan